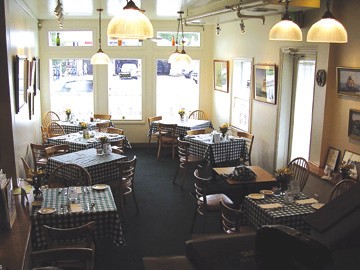 Last night I hid the kids at my sister-in-laws and took Denise out for her birthday to a local Annapolis secret favorite,
Paul's Homewood Cafe,
it has been a local hit for 57 years. This place is so hidden that even if you're local, you've probably driven by it and never noticed it. The building looks like a small old renovated home business with a very small sign. I think I drove by it twice before I finally found it myself, lol. But let me tell ya, it's worth a searching for because it really is a "find"! Denise is pretty particular about food so I made an effort to research Annapolis' top restaurants in an effort to steer away from the usual fair of chain eateries. The cafe is located across the street from another local favorite, Carlson's Donuts & Thai, which by the way is next on our list to visit =)
Paul's Homewood Cafe isn't exactly a cafe. It's a cozy bistro-like restaurant that serves American and Greek food and all I'll say it's some of the best tasting food we've ever had in a long time! The reviews on
TripAdvisor
were right! It may be a small restaurant, but the cozy feel and incredible service is by far the best. The colorful artwork on the walls (all for sale by the way) add to the elegant yet casual feel of the place. There's no great view or sophisticated decor, but in the end you leave knowing the real reason to visit Paul's - the food! We started with
Spanakopita
that was so tasty and delicious! Truly a Greek treat! Then Denise had the Seafood Stew and I had Veal Dominique, and yes we sampled each other's dish! Both were absolutely delicious and full of flavor, there isn't more I can say, you just gotta go to experience it yourself. And we decided to splurge on dessert and enjoyed Coconut Balls, lol. Once you get past the name, you dive into two huge scoops of vanilla ice cream covered in fried coconut that's covered with chocolate and whipped cream... delicious just isn't a good enough word! LOL.
Paul's Homewood Cafe is definitely a great local find that we give 5/5 stars! I didn't bring my camera to shoot photos of the place because it was Denise's night and wanted to leave "work" behind. The service was warm and friendly and the food was fabulous. Pricing is moderate and parking is interesting, you gotta turn into a driveway that leads to the rear of the building. Additional parking loops around and behind neighboring businesses. If any of my blog readers come out this way, let me know and we'll all go to Paul's!